Before I can get to any fantasy thoughts, I've just got to say…..Did we really just see that last night?! It seems like it was only a matter of time before we saw the outcome of a game decided by the refs on a horrible call on national television. Even in the lesser games I have noticed just how "out of their league" these refs are. The games are taking forever to end, it takes the refs 10 minutes to realize that plays can't be challenged, they are not working as crews because everyone is so scared of screwing up and it is just awful.
We may be stuck with this for a while though as the league really doesn't have much reason to change anything even after the refs have cost a team a game. The fans won't stop going to games and buying merchandise. The players and coaches can't actually strike or do anything but complain. The NFL knows all of this, and can flex it's muscles in the process. The only hope is that the owners start to change their minds and pony up what needs to be given to get the regular refs back. The only shame is that this wasn't a Cowboys game because Jerry Jones would make sure the refs would be back today if that was the case. Regardless, I wonder if there are any referee fantasy leagues this year….it must be a miserable season for them. Besides, I miss Ed Hochuli's biceps….
Bills RBs: This is the third time in 3 weeks I have covered this specific unit in this space. Just when it looked like Spiller had a runaway chance for the starting gig, he went down with an injury of his own. A sprained shoulder should keep him out for this upcoming week and possibly another one. As of Sunday it looked like Tashard Choice would be a nice 1 week pickup and maybe a spot starter. However, his impact may be minimal as Fred Jackson is expected to return to practice this week and will probably play this week. This is way ahead of schedule, and may just save his job. He has a chance this week and next week while Spiller is hobbled to regain some footing in the battle for more touches. This is a huge week for both Spiller and Jackson owners.
Reggie Bush: Another top 5 RB gave his owners a scare as Bush went down close to halftime and didn't return with a knee injury. I actually heard a few Bush owners panicking on Sunday night thinking Bush would be out for a prolonged absence, but it looks like there is no structural damage and Bush should be abe to go this weekend. Breathe easy Bush owners.
Packers Offense: There aren't any big injury issues here, this is just a unit that is under producing right now. It looks to me like the issue is the offensive line which is giving up sacks at a high rate. However, Rodgers is up with Jay Cutler for being sacked the most times since 2009 so this is not a new problem for this offense. So why aren't they producing how they usually do? It seems like they have more of a running game than they have the past few years. I can't put my finger on it, but you clearly have to keep starting Rodgers, Jennings, Nelson and Finley and hope they turn it around soon.
Stafford: What might be lost in the crazy finish and offensive numbers of this game is that Matthew Stafford was forced to leave with an injury. If he misses any time I wouldn't be worried about the offense as Shaun Hill has shown he can step in and not miss a beat. If you are a Stafford owner I would suggest picking up Hill this week in case you need him.
McFadden: This week I listed McFadden as a sit in my weekly start/sit article. The reasoning was that the Raiders had struggled in run blocking this season with a new scheme giving McFadden nowhere to run. They were also facing a tough run defense in the Steelers and I did not expect him to break any long runs. Well I was wrong for 1 play, his first carry went for 64 yards and a TD, and Mcfadden finished with 113 yards and a TD. Take out that one play and McFadden has 49 yards on 17 carries, good for a 2.8 yards per carry. However, that one run does count towards the final stat-line and takes a 4 point performance to a 17 point performance. That is the risk of sitting studs.
CJ?K: Another week, another stinker from Chris Johnson. It is legitimately time to start wondering if he qualifies as a "stud" . We're dealing with over a year of head scratching performances. If he doesn't have a plush matchup, I'm not playing him for now.
Cowboys – Buccaneers: This game totally surprised me this week. I was definitely expecting more offensive put out, especially from the Cowboys passing offense. Instead it seemed like this was a sinkhole for fantasy owners. Also, I am officially beginning to worry about Witten, although he has gone through rough stretches in the past only to break out later in the season. I wouldn't drop him just yet but maybe you have a better option until he turns it around.
Vick: The dangerous part of the way Vick is playing this year with 9 turnovers is games like Sunday where he isn't able to get a TD or two to offset those miscues. It's starting to look like you want to have whatever defense is playing Vick as he's just not making good decisions right now and for some reason the Eagles aren't utilizing their best weapon in McCoy correctly. For now, I'd be looking to upgrade from Vick to a more stable QB option.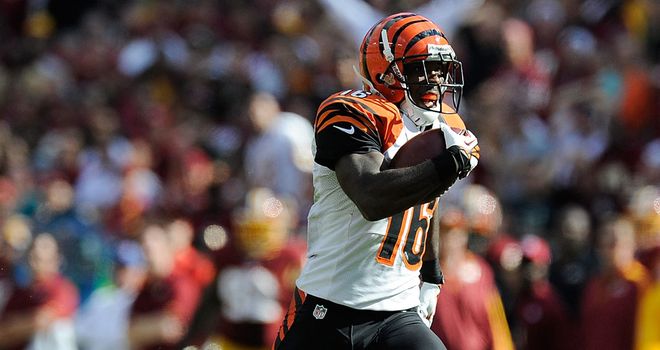 Hawkins: Andrew Hawkins continues to impress, making the most of his opportunities and showing an ability to break big plays. He is giving the Bengals offense another threat for defenses to worry about and should start to garner attention. He probably should be owned at this point.
Top 5 RBs Back: Jamaal Charles and Maurice Jones-Drew had produced mediocre games in the first two weeks but both exploded back onto the scene this week. They have jumped back into the top-5 RBs in fantasy in my book after this week. Charles noted that the 91 yard TD run showed himself that he is back to where he was. The toughest part of coming back from an injury like this for a RB is trusting his knee and his ability to explode off of that knee. Looks like Charles just got that trust back in his knee. Also, the main threats to these two RBs in Peyton Hillis and Rashad Jennings are dealing with injuries of their own. Trust both of them going forward.
Saints D: I honestly didn't think the Sean Payton suspension was going to have much of an impact on the Saints this year. I thought that Brees would be able to direct the offense so that they wouldn't even notice. That aspect has been mostly true, but it is clearly having an impact on this defense. It has been absolutely horrible. One week it's the pass, the next the run. You can't pinpoint one specific weakness as it's all a weakness. This just makes any skill position players facing the Saints D attractive plays.
Big Games for Fitz and Andre: Larry Fitzgerald and Andre Johnson owners needed some glimmer of hope this week and they got it. These guys are just too talented to be shut out for too long and their performances have helped to restore some faith in starting them for the next few weeks at least.
The Barden Affect: Ramses Barden had a great game for the Giants this week with Hakeem Nicks out and much of the defensive pressure shifted towards Victor Cruz. Barden should be locked in from here on out as the 3rd receiver in New York and their 4th option in the passing game. However, I see this as a similar situation to the Ogletree game from a few weeks ago. Barden might be worth an add in deep leagues, but don't let this one game make you drop anyone special or spend a lot of FAAB dollars to get Barden.
Replacement Refs: Scarier for the fans, coaches, players, etc about the replacement refs than just missing a few calls is the fact that players have little respect for the replacements. The replacement refs have little to no ability to control games and that is leading coaches and players to do things to see what they can get away with. Take the hit on Matt Schaub this week from Broncos Linebacker Joe Mays for example. It's good to hear that the NFL is taking this hit seriously, but it didn't appear that Mays even tried to let up as he rammed Schaub with a helmet to helmet hit. Take a look at Schaub's ear after the hit…. It's missing something.
Going into this week there is a new challenge for owners and that is bye weeks. They start this week with Pittsburgh and Indianapolis getting the first off weeks of the season. This is the time where your depth will start being tested and the waiver-wire becomes more important.
Related Articles